International Exhibition SOUVENIR EXPO GREECE "FOLK ART" from 11 to 15 of January 2023 in Athens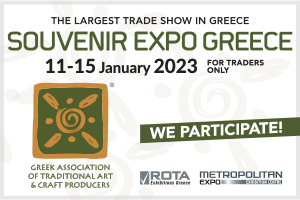 The Pharmaid company and its dynamic staff will take place for the 12th consecutive year in the exhibition Souvenir Expo Greece "Folk Art" organized by Rota and invites you to visit to and see up close our products and our spectacular design, we can speak for anything else you are interested associated with tourism and generally for wholesale.
You will find us in Hall 1, Hallway D and Number 22 to discuss study and analyze your needs and show you new ways of beautiful designs.
The exhibition will be held from 11 to 15 January 2022 and the entry is free.
Access to the exhibition center Metropolitan Expo is more than easy, with many transportation options from Metro, bus, plane and car. Located at the end of Attica street, just 2 km from the airport buildings and a few minutes' walk from the Metro and commuter rail. Finally, the location makes it ideal destination for people traveling by plane. (Distant locations and foreign visitors).
Working Hours: 10:00 – 20:00